Worth the Splurge? Skinceuticals Vitamin C Review
I started using Vitamin C 2 years ago, and I haven't stopped since. While I've tried a variety of Vitamin C serums at all different price points, one that I always came back to was the SkinCeuticals C E Ferulic. Even after seeing multiple publications laud it as the crowing jewel of Vitamin C serums, I still hesitated to bite the bullet because it is expensive. I later on learned why it's so expensive and geared up to bite the bullet and try it out. For the sake of science. For the sake of the blog.
Thankfully, Dermstore came to the rescue of my credit card and sent over the serum in a PR mailer last year. That said, all opinions in this post are my own! And I was under no obligation to talk about it or post about it.
I've been using the serum a couple of times a week all summer long and finally nearing the end of the bottle.
In the past, I've reviewed a few other vitamin C serums: the Sokoglam x Cosrx, Paula's Choice C25 booster, the Dr. Dennis Gross C+ serum, as well as my long time favorite the Drunk Elephant C-firma serum.
Background
I've talked about vitamin C many times here on this lil' ol' blog. It's a powerful multi-tasker that brightens, firms, and evens out skin tone. It helps with scarring, hyper pigmentation, wrinkles, acne, sun spots, you name it, it does it. And that's all backed with mass amounts of research (no shade to newer ingredients, but if you want to try something that will deliver results, reach for vitamin C.)
Vitamin C comes in many forms and derivatives but my personal favorite is L-ascorbic acid. It's the form of Vitamin C our bodies produce so there's a known pathway of how our skin utilizes it. Many of the popular vitamin C derivatives on the market today have to be converted into L-ascorbic acid by our bodies before it can be used.
One of the downsides of L-ascorbic acid is how unstable it is. It's difficult to come up with a formulation that can effectively deliver the LAA to our skin before it oxidizes and eventually becomes unusable. Enter Skinceuticals. They're the ones who did the research and came up with what is considered the gold standard for stabilizing LAA: LAA with ferulic acid and tocopherol (amongst a few other things.) If the combo sounds familiar to you, it's because plenty of brands have copied it— Drunk Elephant, Timeless, Maelove, and dozens more. Earlier this year, L'oreal filed a lawsuit against Drunk Elephant (arguably their biggest competitor in the Vit C game) because they have a patent on this combo through 2027.
Claims
From the product page on Dermstore:
"SkinCeuticals' C E Ferulic features a synergistic antioxidant combination of ferulic acid and pure vitamin C and E to enhance your skin's protection against environmental damage caused by free radicals. In addition to antioxidant protective benefits, this formula improves signs of aging and photodamage to reduce the appearance of lines and wrinkles while firming and brightening your complexion. Lastly, this powerful formula helps neutralize free radicals induced by UVA/UVB, infrared radiation (IRA) and ozone pollution (O3)."
Availability
$166.00 for 1 fl oz via Dermstore (they do periodically have sales where you can grab the serum at a discount of 15- 25% off)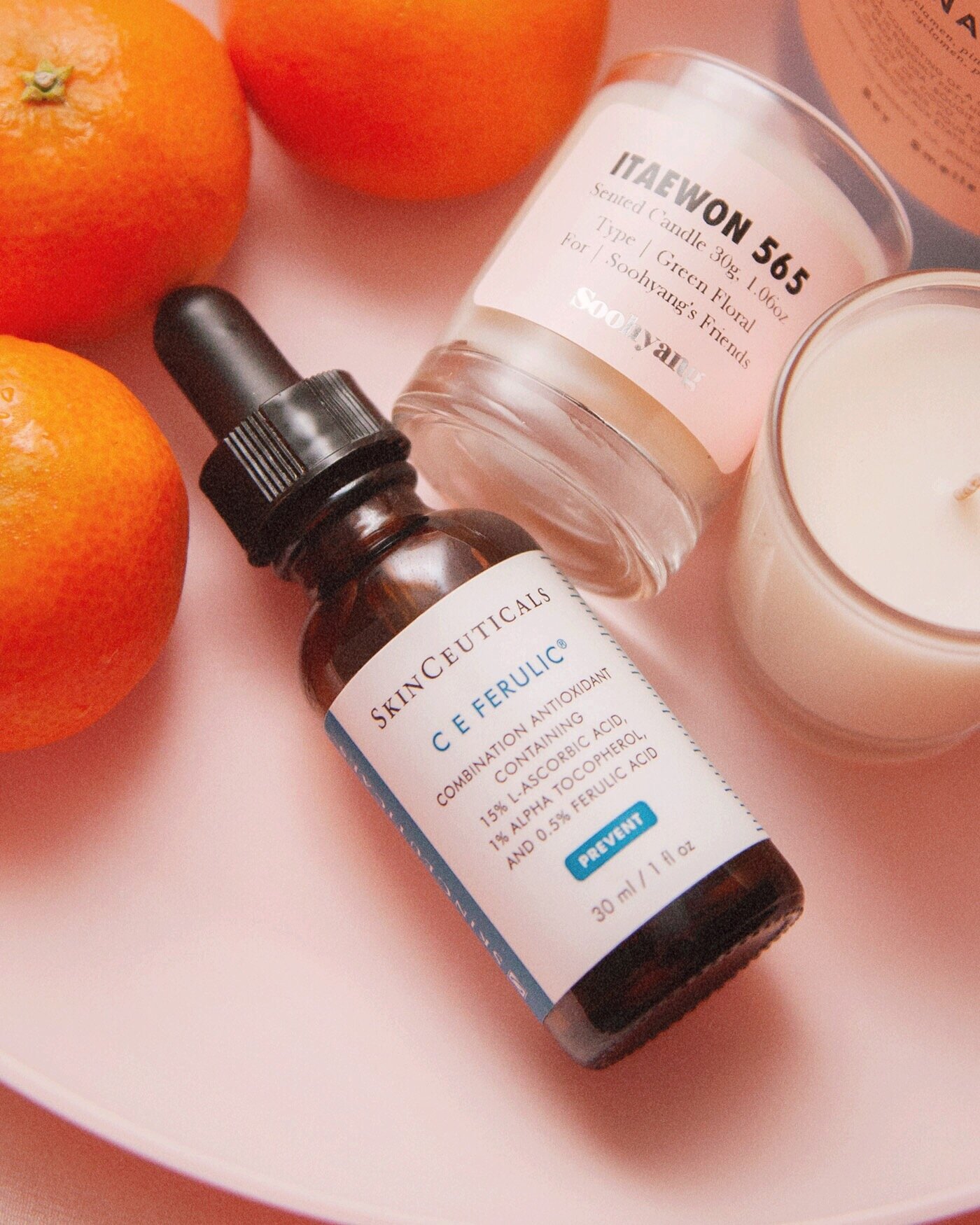 Packaging
This comes packaged in a darkened glass bottle with a dropper. While the darkened glass is better than a clear glass, I still had to take care to store this in a cool drawer that got little to no sunlight. I much prefer Drunk Elephant's packaging which is an airless pump in an opaque plastic container. Like I said, vitamin C is sensitive so packaging matters. Excess air and UV exposure speeds up the breakdown.
Scent
This is free of all essential oils and additional fragrances. As expected, it has that weird, hot dog water scent of L-ascorbic acid. Tbh, it's something that can't be avoided. But it's also something I've come to expect and it no longer bothers me. I'm willing to deal with the scent as long as the vitamin C serum I'm using deliver results.
Stability/ Oxidation
So as time goes on, vitamin C serums begin to oxidize. It doesn't mean that they're completely unusable but it does mean that it's starting to become less effective. It's easy to tell when this is happening with some serums because they darken and become more orange.
This is supposed to be effective for 36 months after production and has a 6 month shelf life once it's opened. My bottle has an expiration date in 2021 which means it should have been fine for at least another year. When I opened mine up, it was a pale yellow color— which is as expected. I used it several times a week and by the end it was pretty orange; I'm not sure it would have been usable by the end of the expected 6 month shelf life.
Application/ Texture
It has a liquidy texture that absorbs well. I would say its noticeably lighter than the Drunk Elephant serum which has a propensity for turning sticky when I accidentally over-apply. It's easy to layer the rest of my skincare and makeup above this.
I would apply it as my first step after cleansing and drying my face, as I do with every other vitamin C serum.
Results
I expect a vitamin c serum to help fade old acne scars, help prevent an onslaught of new breakouts, and provide an overall bounciness to my skin. I can't deny this delivered on all of those claims. For the past two weeks I've been without this serum as I recently finished it, and I can see the difference it made. My skin has lost some of its glowiness and more importantly, I've had some small spots start to pop up.
Overall Thoughts
Without a doubt, I got good results with this serum. Additionally, I appreciate that they expended the money, time, and energy to come up with the formula. But as a consumer, I cannot justify spending $166 on a serum when there are ones that work just as well at a fraction of the price. Perhaps, if it were a year supply vs a 3 month supply, I would be able to bit the bullet. But spending $166 on a serum 4 times a year is unfeasible.
That said, if you have the funds and are curious about trying it out, I don't think it will let you down!